I first heard or read of Sean Feucht in Feb. of 2020 when a friend asked me if I'd heard of the 'Awakening The Dawn' events planned for implementation that summer, across America, which Rick Becker covers in an excellent article on Sean, after Sean started fascinating over the number 222 constantly appearing to him, which Rick explained as numerology. (Link below)
Rick's article begins with some background history on Sean and detailed explanation of Sean's Burn 24/7 history, and 'Tabernacle of David' teaching, drawing out the many errors in this application and the 'worship warfare', 'atmosphere shifting, contending for revival' mindset.
It's important to read Rick's article as it covers much of what I want to communicate about Sean.
"In 2006 the Burn 24/7 was kindled from the flames of a series of spontaneous, all night worship gatherings on the campus of Oral Roberts University in Tulsa Oklahoma. these campus worship night became a city wide movement within a year and in the years following catalyzed over 300 'burn furnaces' across the globe. The heart of the Burn 24/7 is first and foremost the passionate pursuit for the presence of God." https://www.seanfeucht.com/burn-247
Much has been written about the 'Tabernacle of David' teaching, and the 'worship warfare,' 'shifting atmospheres,' contending for revival, in anticipation of a great spiritual awakening. Sean's 24/7 Burn is a direct implementation of Mike Bickle's IHOP model. The fascination with stadium events can be drawn back to Lou Engles 'The Call' and 'The Send' initiatives, which in turn were motivated partially by supposed 'prophetic words' in the 80's, by discredited Paul Cain.
Bob Jones and numerous others, including Mike Bickle, had been speaking of a world wide youth movement, of elite worshipping warriors, that would literally assist in ushering in the return of Christ, thro' their warfare worship, a version of the "Latter Rain' 'Manifest Sons Of God' doctrine. Much has been written addressing these issues and concerns. (Again see Rick's article & links)
Sean's parents worked for WYAM for a period of time. (Loren Cunningham developed a 'cultural transformation' application of evangelism in the 70's, along with Bill Bright.) Sean was surrounded by hyper-charismatic 'Dominionism' in some shape or form, his entire life. The 'Latter Rain' movement's doctrine and ideology of 'attracting God's presence, to usher in the great end time revival, was embedded in Sean's 'spiritual DNA' so to speak.
I have written several blogs on the stadium revival phenomenon and 24/7 prayer/worship.
Stadium 'Revivals,' 24/7 Prayer/Worship Issues
Important To Read To Understand 24/7 Prayer/Worship Issues
Stadium Enterprises-The Real Agenda–Significance of Youth-Filled Stadiums
a https://scribalwell.wordpress.com/2020/02/01/stadium-enterprises-the-real-agenda-part-1/
New Breed Of Elite Elect Seed
Yet another event to attempt to fulfill the old Latter Rain cult prophecies about filling stadiums with mass numbers of young people, a new breed of elect seed that they believe is an elite specially empowered generation to rule and reign over the earth. (See the article "The Significance of Youth-Filled Stadiums.")…aims to fill the National Mall again with over a million zealous souls seeking to induce a pervasive, landmark, and revolutionary spiritual awakening. (Taken from -'TOGETHER 2016:' Resetting the Reformation)
The Significance of Youth-Filled Stadiums
http://herescope.blogspot.com/2013/01/the-significance-of-youth-filled.html
awakening, igniting, releasing – an Elite generation Of new breed "August 3-5, 2011… I believe God is going to release an awakening on a new breed of healing revivalists who will be anointed, activated and sent back into their campuses and cities. And we will see an uncontainable fire once again come out of Chicago only this time it will 'ignite a generation that will change the world'. See You There." Banning Liebscher, Jesus Culture Director
"Let's believe that stadiums will be filled with signs and wonders…. And stadiums are going to be filled. We are entering into the days of the great awakening. And I believe Jesus Culture is carrying the mantle for stadium Christianity and signs and wonders…. [T]o release the greatest Jesus Movement....Lou Engle[1]
a https://scribalwell.wordpress.com/2020/02/09/awakening-the-dawn-part-2-what-else-is-going-on/
It May Have 'Hooks in It'
Statements/declarations at these events: "We're going to make some proclamations… Shofar players are going to shake the foundations of this city!…We proclaim tonight the beginning of the greatest awakening in America!… We proclaim a new Jesus movement has begun across America!"
David Bradshaw: "I hear the sound of rain coming to America again. Thousands will be saved…America shall be saved." (Again, with the proclamations. Will some in America hear the true gospel of salvation and be saved? Yes, but, it will not be as a result of the proclamation of this gospel of the Kingdom which so adds to the true gospel as to make it unrecognizable. And, true believers should not be interested in seeing the salvation of the institution of America. Jesus Christ is returning to crush these evil, earthly kingdoms and establish His Kingdom! You know, so many idolize this nation and it's sickening. We do not give our allegiance to a country or a flag. We give our allegiance to Jesus Christ alone!) Here is some information about David Bradshaw from the website of the ministry with which he is associated. (http://www.theprayerfurnace.org/content.cfm?id=149&member_id=21)
https://www.facebook.com/notes/connie-schuetz-wright/errors-of-the-awaken-the-dawn-event-part-1/293980367772609/ CONNIE SCHUETZ WRIGHT – Errors of the Awaken the Dawn Event
These proclamation type prayers, speaking revival, "proclaim(ing) tonight the beginning of the greatest awakening in America!… We proclaim a new Jesus movement has begun across America," These 'opinionated', lacking Biblical validation, prayers, are 'hooks' in the activities of this movement, and considering that worship and prayer are integral, these 'hooks' are huge inroads for counterfeit influences, in 24/7 'prayer & worship,' including IHOP.
*These questionable approaches in 'prayer,' decreeing what is believed, 'prophesying' in prayer, etc. but not based clearly upon Scripture, believing their 'confession' is 'shifting atmospheres, making a difference, when considering that much of the 24/7 prayer is based on this perception and other erroneous 'prayer' approaches, applications, and focus, one can hopefully begin to see, that 24/7 prayer and worship, is not what it is made out to be! With that much focus on supposed prayer, wisdom in God ordered prayer is so important. The issue of 'contemplative prayer' is another hook, that is being decried quite a bit now. What is really going on in 24/7 prayer, is the question, to be asked and answered!
l I believe these events may very well be 'birthing' a 'false jesus movement,' the catalyst being false prophecy, false mandates, false doctrine, false signs and wonders, false manifestations, strong words, I know, but the evidence is clear!
See – 'white nose' – Overstimulating & more hooks, in link above
a https://scribalwell.wordpress.com/2020/03/10/spiritual-disciplines-with-spiritual-harm-24-7-prayer-worship/
Spiritual Disciplines With Spiritual Harm
One writer observes, It is alarming that 24/7 uses monastic tradition – and to such length – as one of its primary foundations. Why?Because there is an approximate 200-year gap between the apostolic age and the monastic age and, therefore, the question must be asked: where did the monastic tradition originate if not from the apostles? And if not from the apostles – and henceforth from Jesus – then why would we follow its example?
It should also be noted that the concept of 24/7 corporate prayer and worship is not mandated in scripture. Nowhere in the New Testament did anyone set up houses of 24/7 prayer. And despite attempts to find it in Amos 9:11, the Bible really knows nothing of the reestablishment of Davidic worship among New Testament believers. Additionally, many of the prayer practices such as Contemplative Prayer, Prophetic Decrees, and spiritual mapping find no support in scripture. The fact that these are done 24/7 only compounds the problem. Doing a great deal of something wrong doesn't cause it to be right. http://www.discernmentministries.org/Newsletters/NL2012SepOct.pdf
False Prophecy -Catalysts For False Revival
Bob Jones has been highly influential in many 'kingdom now' endeavors, 'prophesying' false information that has become a catalyst and focus for many vain 'labours' in numerous ministries, these false prophesies and false doctrine being 'hooks' in the movement as well! False prophecy can be a catalyst for false, counterfeit, revival, 'moves of God', and 'ministries.'
___________________________________________________________
* Many influences can be seen here, that have shaped Sean's life and world view.*
____________________________________________________________
The 'Awakening The Dawn' events, of David Bradshaw, pastor of 'Fredericksburg Awakening Community Church,' were collaborating with Sean's 'Burn 24/7' prayer and worship initiate, (which Rick covers in article linked here), in a new venture called Movement 2020, "The plan for a planned revival called "Movement 2020" was announced in September of 2019. It was held December 31st- January 2rd, 2020. David Bradshaw of Awaken the Dawn and Sean Feucht of Burn 24–7 planned this "collaborative family gathering" in Sean's home state of Virginia."
"David Bradshaw recalls an elder brother (Bob Jones) prophesying, "You're going to be part of a new Jesus Movement. It's a Holy Spirit Woodstock."
a https://firebrandmag.com/articles/neocharismatic-christianity-and-the-rise-of-the-new-apostolic-reformation
Curious, Interesting Summation On Neocharismatic Christianity-Rise of the New Apostolic Reformation
Of Particular Interest – History Of The Cultural Mandate In Evangelism (see link above)
What are we to make of this Neocharismatic Christianity? Constraints of space only permit three final observations. First, the NAR represents the largest number of independent charismatics in the United States. Because it exists through a series of autonomous ministry networks, it functions as a kind of family of churches that resource one another. Apostles are patriarchs and matriarchs who lead the family. There is a kind of egalitarianism where women can lead and pastor alongside a view of male headship. Second, with the help of Reformed Reconstructionism, it has placed the social gospel into a charismatic framework to drive a conservative political agenda.
Wagner wrote a memo to Cindy Jacobs in which he said that the father of the social gospel, Walter Rauschenbusch, had tried to introduce the cultural mandate alongside the evangelistic one, but he was rejected because of liberal theology. Finally, its restorationism, emphasis on the prophetic, and desire to actualize the kingdom in full means that it is constantly engaged in future casting. Christian tradition means very little in this context except as a set-up for where the church is and what the church has done wrong. Even though NAR adherents claim to restore apostolic Christianity, the movement, in many respects, is Christianity fully conformed to democratic individualism. Apostles guide megachurches and ministries as mediating institutions unleashing an army of individuals who utilize pop culture and democratic mechanisms to facilitate Christian expansion. There is much more to be said about the NAR, both in terms of its strengths and weaknesses. We will surely benefit by greater and deeper conversation about this complex network of charismatic churches and leaders.
As said, much has and is being written about the belief of a great end time spiritual awakening. Concerns are being expressed, much 'Latter Rain' and Manifest Sons Of God doctrine propagated. I add another resource here: https://bannerministries.wordpress.com/2020/08/05/a-coming-luciferic-global-revival/
Sean-Burn 24/7-David Bradshaw-Awaken The Dawn -Movement 2020-Run For Congress-Worship Protest
Lots of info. on Sean Feucht, (Burn 24/7) David Bradshaw, (Awakening the Dawn), their 'Movement 2020' initiative, and Sean's activities in early 2020, including running for congress.
https://shanleigh.medium.com/2020-an-unprecedented-year-to-schedule-a-revival-part-1-9c71171b4ce4
"Feucht also founded a Super PAC called Hold the Line which is stated purpose of it supporting a "political activist movement. Our goal is to engage with the church and with millennials in a way that charges them to become more politically active." It was difficult in 2020 to tell from Feucht's social media which nonprofit or political group he was promoting with each post. At times he attached a logo to the photo in the post, but in my observation the content did not always match the initiative."
When pandemic lockdown measures increased in March of 2020, many planned 'revival' type events were cancelled or went digital. With the George Floyd protests ramping up, Sean shifted gears, as he stepped beyond his 24/7 prayer worship focus to seemingly fully embrace the more politically motivated side of his 'Hold The Line' initiative.
Shifting Gears To Worship Protests
"Not a lot seemed to happen in May of 2020, but in early June the wind of change in the Revivalists methods start to be evident. Following the police initiated death of George Floyd, crowds of protestors to the streets of Minneapolis. Sean Feucht, a vocal opponent of the Black Lives Matters movement, was perhaps spurred into action to counter their message or to get involved in a piece of the action as crowds gathered in public for the first time since the shutdown due to the pandemic. This picture of the arch in Saint Louis, MO on Feucht's social media marks what some would call the beginning of his plague tour, which kicked off on June 5th of 2020."
"Social media started to buzz as people tried to figure out who Feucht was and why he had a crew with him that were on stage singing, baptizing people in a large tub of water and praying for people ("laying on hands") without wearing masks or social distancing." In Minneapolis, Feucht received both criticism and praise. He had planned to hold a rally at a Christian University, Assemblies of God affiliated North Central, which is located not far from where George Floyd died. Alumni from North Central University demanded their alma mater to dis-invite Feucht, which they did. Feucht blamed the change of venue on rioters. The university later became the location for Floyd's memorial service.
Feucht uses his Christian celebrity to gather local groups together along with the protesters already at the location. A stage baptismal station is erected in the area of Floyd's memorial. Bradshaw's group rallies their supporters and groups on social media.
Local ministries gathered volunteers and resources once it was announced that Feucht and the crew from the YWAM affiliated group, the Circuit Riders, were on their way. A video filmed on June 6th features a local Christian DJ pleading to borrow a stage for the "Fire and Fragrance" and Circuit Rider groups who flew into Minneapolis from all over the USA, including California and Hawaii. The initial event was planned to be held on the 6th and 7th in the parking lot near the memorial site.
The DJ invited his watchers to come out to the site of George Floyd's memorial, where from noon to sundown, they could expect to be "blasted with Jesus music, upbeat music. We'll be doing prayer, worship, salvation call…to lead people to Jesus. To change the atmosphere of our city from riots and destruction to peace." He encouraged his watchers:"Let's be revolutionary people and bold Christians, to be the spiritual militia that we are. To rise up and raise a standard in our city." He emphasized that "this is all grassroots", despite naming some very high profile organizations. This reminded me of Feucht, who seems to love to use the term "grassroots" when he actually means astroturfing.
More details on Sean, esp. first 'worship protest' in Minneapolis – (George Floyd – protest)
a https://shanleigh.medium.com/who-is-sean-feucht-19cb519b8645 –
Superstitious Omen Reading Of Numbers
Again, much has been written regarding reading significance, meaning and messages into numbers, as well as other object, events, and circumstances.
Before I proceed with Sean's recent 'Let Us Worship' initiates, I want to address his numbers fascination, as Rick writes of.
Sean Feucht – Feelings, Whispers & Omens
From Rick's article:
Feucht:
"Then I saw the hotel number on the door and just 😭😭😭😭😭😭😭.
This has been MY NUMBER since high school and lately I have been seeing it NONSTOP!!! "I will place on his shoulder the key to the house of David; what he opens no one can shut, and what he shuts no one can open." Isaiah 22:22
I felt the HOLY SPIRIT whisper to me through the weariness: "KEEP GOING! WORSHIP IS THE KEY TO UNLOCK REVIVAL IN AMERICA!"
This is why we worshipped our hearts out on the streets of LA last night. This is why we're gonna do it again in Charlotte tonight, Atlanta tomorrow and Nashville on Sunday. This is why we are storming Washington DC and filling The Mall with wild adoration and praise on October 25th!
WORSHIP IS THE KEY OF DAVID TO UNLOCK EVERY DOOR OF BREAKTHROUGH!!!"
The number 222 could apply to any verse you like. It's disingenuous for Feucht to add a 2 in order to link his "number" to a verse in Isaiah (probably difficult to find a hotel in that area with room 2222) Feucht is also ignoring the fact that rough chapter divisions were only added to the bible in the fourth century. Verses were added in the sixteenth century – they are not inspired, and have no meaning! Feucht is looking to omens and scripture out of context for guidance or confirmation. This new revelation that worship is the key to unlock revival is exclusive to the USA, and based on Feucht's imagination or deceiving spirits. I guess revivalists in other nations will have to wait for specific omens and God's whisper to inform them what the key is for revival in their nation.
Feucht:
"TRYING TO TELL YA'LL 🗝🗝🗝🗝🗝
This number is FOLLOWING ME! 😱😱
Just landed in Kansas City and this is my room number tonight…AGAIN!
Been stressing all day about planning, 30k bills 🤪, schedule, pushback BUT GOD IS SO KIND TO KEEP US ON TRACK!
ITS ALL ABOUT WORSHIP FRIENDS!!! THE BATTLE ALWAYS OVER WHO WILL BE WORSHIPPED!
Ignore the haters everyone!!! Keep your hands raised high!!
"I will place on his shoulder the key to the house of David; what he opens no one can shut, and what he shuts no one can open." Isaiah 22:22
It's gonna go OFFFFF tomorrow in KC then Pittsburgh then the NATIONAL MALL!!
GOD HAS GIVEN US THE KEYS!!! 🔑🔑🔑🔑🔑"
Rick goes on to explain the errors and source of numerology omen reading.
Sean Feucht & 'Grave Soaking'
Moving on, more bad fruit evidenced in Sean's life, from the wayward 'apostolic/prophetic' movement-Grave soaking
"From the mantel of this man right here, would you release the mantel of this man, count Zinzendorf, on an entire generation god." Sean Feucht – May 26, 2021
https://www.facebook.com/hashtag/seanfeucht – Grave soaking https://www.facebook.com/watch/?v=402708401312061 Sean & son in graveyard + omens
Black Robe Regiment
– https://teachinghistory.org/history-content/ask-a-historian/24635
The term "Black Robe Regiment" referred not to a literal regiment of soldiers that wore black robes into battle but rather to the influential clergymen who promoted American independence and supported the military struggle against Britain. By encouraging the Patriot cause, those ministers helped muster critical support among members of their congregation
-symbolic support to a specific body of troops -clergy sympathizers of patriotism
The origin of the British label "Black Robe Regiment," was the rhetorical support for independence.
'Reawaken America'/Patriot Movement Wrong Focus
Examination and consideration of many aspects of the 'Reawaken America'/Patriot movement, will reveal many disconcerting issues, in light of the gospel and Scripture. These issues and concerns are being addressed by many in the Christian community. Exhort and Contend face book group covers these wrongly focused events daily, a good resource to help examine this wayward phenomena. Sean Feucht's direction is toward this wayward focus. https://www.facebook.com/Exhort-and-Contend-101026978079655/?cft[0]=AZWzho94X8Tyikfge_IoAVjo9EHZ_RPQyJ_pvWfwKNVbwtDCByaNVQzTzm8p754XcoWl0zqpMZUlSmCsD560sg5IjLe_Fgc7Vw9eFVNqf9hbsME-JF-BQGP3w1lwtzsCwzvjz2TiSoIIMVWG4fdlrTEB&tn=-UC%2CP-R
Sean's participation in Clay Clark's 'Reawaken America' & 'Health & Freedom' Tours, his promotional, 'Let Us Worship' video clips in tow, place him in the 'patriotic gospel' camp.
Sean's 'Hold The Line' initiative seems to have taken front and centre stage, in his 'Let Us Worship' events. https://www.seanfeucht.com/hold-the-line
A POLITICAL ENGAGEMENT MOVEMENT
"Hold the Line is a political activist movement. Our goal is to engage with the church and with millennials in a way that charges them to become more politically active."
IT'S TIME TO RAISE OUR VOICE
"Hold the Line is an organization whose hope is to bring awareness that will lead to historic engagement in the governmental realm of cultural influence.
The goal is to start engaging in conversations that will create a space where voices get unlocked and activated to bring reformation and CHANGE."
Sean's participation in Clay Clark's 'Reawaken America' & 'Health & Freedom' Tours, his promotional, 'Let Us Worship' video clips in tow, place him in the 'patriotic gospel' camp. a https://www.bitchute.com/video/1NEb5jpcbXvJ/
'Let Us Worship' Events Enter Protest Arena
a https://anewscafe.com/2021/08/12/redding/sean-feuchts-new-brand-of-bethel-church-inspired-radical-militant-christianity-on-display-in-portland/?fbclid=IwAR1_GPCdTZ86t42sisZB79ShwqmQw0tPP0lsVdhXczpPenp1TgkhfBs-bYw
Sean Feucht's New Brand of Bethel Church-Inspired Radical Militant Christianity on Display in Portland
Lots of provocative tho't, ideology, conviction, mixed emotion, swirling around the new Sean Feucht brand of christianity, esp. when introducing the theme of revival!
Feucht Returns to Portland
Sunday, Feucht and his team of performers visited Portland to hold their second "Let Us Worship" event on the one-year anniversary of their first visit. As with the first time, it took place at Tom McCall Waterfront Park. Unlike the first, however, a paramilitary force provided security.
In the hours before the event kicked off, Feucht shared on social media that he and his fellow performers would be protected by a team of ex-military and ex-law enforcement "LOVERS OF JESUS and freedom."
He posted on his Facebook page: "If you mess with them or our 1st amendment right to worship God, you'll meet Jesus one way or another."
Feucht's Facebook statement, which expressed a clear and violent threat to the lives of any potential counter-protesters, included a picture of him kneeling with a guitar in front of the paramilitary force. Scores of individuals on social media expressed their shock at Feucht's statement about the paramilitary security force. Jay Koopman, a Los Angeles-based preacher at the Harvest Rock Church in Pasadena, joined Feucht and the security force in the photograph.
Feucht Has Been Looking for a Fight
One thing is for certain, Feucht has long been looking for a fight. The premise behind his national "Let Us Worship" tour is ostensibly based on the notion that Christians who wish to exercise their freedom to practice their faith were oppressed by COVID-19 mandates and bans against in-person church attendance. Feucht has consistently not encouraged masks or social distancing at his events, even when they have taken place in cities where COVID-19 infection rates were skyrocketing. Feucht has also openly expressed the belief that COVID-19 and the vaccine are both hoaxes.
In addition, Feucht has purposely scheduled "Let Us Worship" events in cities witnessing protests in response to the killing of George Floyd by Minneapolis police officer Derek Chauvin in 2020, including Minneapolis itself, perhaps in hope of stirring up conflict between Feucht followers and non-followers. It appears as if he finally struck gold in Portland.
Andrey Ivanov: The Leader of Sean Feucht's Private Security Team
One of the individuals in charge of organizing and leading Feucht's paramilitary security force was Vancouver resident Andrey Invanov. Ivanov is a veteran of the Navy Reserve, a licensed real estate agent, and founder of Flash Love, an organization that reportedly mentors young men and helps them, "place God at the center of their lives."
Flash Love is a militaristic youth organization and its promise to create "Godly men" is rooted in extreme notions of masculinity, religion and society.
Ivanov's extreme political and social viewpoints, combined with his efforts to train young men in a militaristic fashion that emphasizes right-wing perspectives of so-called Godliness and masculinity are alarming. His perspectives resemble the commentary, minus the religious rhetoric, expressed in the north state by popular right-wing extremists like Carlos Zapata.
On Aug. 7, Ivanov put out a call on Facebook to help him provide security for Feucht's Aug. 8 concert the following day:
"I NEED BOLD MEN TO HELP ME DEFEND SEAN FEUGHT'S LET US WORSHIP EVENT IN PORTLAND TOMORROW," wrote Ivanov, followed by, "PLEASE DM ME IF YOU'RE NOT AFRAID."
Local members of the Proud Boys, the most visible and vocal being Tusitala "Tiny" Toese, was in attendance. Toese, who is also affiliated Joey Gibson's Patriot Prayer group, as well as the Oath Keepers, has a violent past and has been known to specifically visit the city to attack people during protest events.
Toese was recorded on video at the "Let Us Worship" event aggressively trying to intimidate members of ANTIFA and other counter-protesters on several occasions. He also appeared in a highly edited video of the "Let Us Worship" event shared by Feucht on his Facebook page. Feucht's video depicted Toese in a positive light, even though he circled the event acting in a highly aggressive manner.
In one video shared on Twitter, Toese is seen directing Ivanov and others who provided security for Feucht in their fight against counter-protesters in downtown Portland after the "Let Us Worship" event.
Toese was joined by a group of men affiliated with far-right groups who, like him, have caused bloodshed on the streets of Portland in recent months and who have extensive criminal histories. This includes Vitaliy Ponomarev and Igor Ponomarev, Russian American brothers from the Vancouver-Portland area.
After the "Let Us Worship" event ended, Vitaliy dangerously drove his truck through protesters in downtown Portland as Igor sprayed bear repellent out the window. Igor also assaulted an individual with a bat earlier that evening. In 2010, Vitaliy was convicted of a felony for a high-profile burglary he committed to support his heroin habit.
Feucht is Partially to Blame for the Violence in Portland
It is a fact that Sean Feucht and his formal security force attracted far-right-minded and violent individuals to the Portland "Let Us Worship" event. Violence of any kind is not acceptable, but it is essential to realize the fact that counter-protesters attended the event because of the presence of individuals with far-right affiliations and histories of violence.
Feucht is partially to blame for the violence that took place during and after his "Let Us Worship" event. After word spread about the violence, as well as the far-right nature of the paramilitary security force at the event, and the fact that members of the Proud Boys and Patriot Prayer were in attendance, Chris Overstreet took to Facebook to post a live video on Monday in defense of his friend Feucht.
In his live video, Overstreet claimed that he had taken it upon himself to organize a security team comprised of people connected to local churches "that loved the lord with all their heart."
Overstreet denied the rumors that he or Feucht invited the Proud Boys or members of other far-right organizations to the concert. He also stated that Ivanov did an "absolutely phenomenal" job in leading the security team.
Despite this, on Wednesday, Ivanov scrubbed his Facebook page and deleted or made private all content dealing with the "Let Us Worship" event and his Flash Love organization. Ivanov likely wiped his Facebook page clean because of the heat he had taken for his involvement in the event and its aftermath of social media.
Regardless of whether or not Feucht or Overstreet invited the Proud Boys and other far-right individuals, the latter's obvious attempt to do damage control for the event and its aftermath shows that he knew there was a problem.
Intersectional Far-Right Identities
Even though Overstreet did not admit this in his live video, the real problem is the intersectionality between the worlds of radical right-wing Christianity, domestic terrorist organization like the Proud Boys and Patriot Prayer, white nationalism, homophobia, anti-immigrant nativism, anti-urban sentiments, and right-wing politics in general.
Is it any wonder that a member of the Proud Boys would want to show up to a Sean Feucht-led event?
Likewise, is it any wonder that Feucht proudly wears a State of Jefferson shirt, or that he shares his ties to Bethel Church with Jeremy Edwardson, one of the owners of the Red, White and Blueprint media company? Finally, is it any wonder that the Proud Boys and the State of Jefferson movement can show up on the same flags, clothing and stickers? Is it any wonder that members of the Proud Boys, from near and far, showed up in Redding to support Carlos Zapata after his hearing at the courthouse?
Feucht Doubles Down, Says It's Time for 'Woke Passive Christians' to Fight Back
Like Overstreet, Feucht also went live on Facebook to an audience of more than 3,500 viewers on Tuesday. He claimed that he was "super over these woke passive Christians" who refuse to fight back, and that he had "no problem with having security at the event," because people needed to be protected.
Feucht claimed that counter-protesters waited to attack attendees until after the event, but there is little evidence to prove attendees to the "Let Us Worship" event were directly targeted and attacked.
In the Facebook Live video, Feucht repeatedly emphasized the belief that it is time for Christians to rise up and fight back.
"In an era of cancel culture, we don't cancel our events," claimed Feucht. He ended his live video by asking viewers to donate money to him, to keep an eye out for his forthcoming album, and to attend his next "Let Us Worship" event in Washington D.C. on September 11 and 12. Just like the Red, White and Blueprint and State of Jefferson hucksters, Feucht is always ready to take donations and sell merchandise.
Like the Red, White, and Blueprint media company, as well as the Recall Shasta organization and the State of Jefferson movement, Feucht's best-selling product is fear, and a false sense of victimhood. Importantly, his calls for a less passive form of religiosity echoes that of Metaxas, Ivanov and scores of other radical right-wing religious figures in the U.S. and abroad.
The path upon which Sean Feucht embarked last summer has changed. Before our very eyes we've watched him transform from a COVID-denying outdoor Christian musician and evangelist that carted along an ever-evolving cast of performers, to to a right-wing evangelist calling for violence.
Feucht's continued claims to be disinterested in politics, and only interested in God, appear disingenuous. In fact, his politics have only gotten more extreme since his "Let Us Worship" tour began in Redding. Feucht has taken Bethel Church's philosophy of direct healing, and public signs, wonders and miracles to a militant, violent, fascist and white nationalistic far-right population who is buying what he is selling.
Repeated, Sean has asserted that: "The mission of the tour, he said, was to "stand up for our First Amendment rights."
A Few Tweets For Tho't
JOHNNYSWIM@JOHNNYSWIM·Oct 12, 2020 Inconvenience is not persecution @seanfeucht. Also, are you willing to disclose how much money you've made in merch because of these events? Is any of it going to the newly widowed or orphaned due to the pandemic you are helping spread at your self-worship events?
Andrew Fouché@andrewfooshay He's been to Seattle twice. I'm connected to 200+ pastors and to my knowledge he reached out to none of us. Cruising into a city you have ZERO investment in and causing a scene is not helpful to those of us who are committed to long-haul Gospel work.
David Cassidy@DPCassidyTKC Nashville area Pastor here @seanfeucht. We are meeting freely. That our city was concerned about crowds gathering does not mean the city governments in the area are resisting the church. They're not. You do not speak for the Church here & your post slanders our civic leaders.
Sean Feucht@seanfeucht A police officer escorting me out tonight said he estimated 9000-10,000 worshippers filled the courthouse steps in downtown Nashville! We had THREE venue changes and so much resistance BUT THE CHURCH WILL NOT BE SILENCED
Shane Claiborne is a prominent speaker, activist, and author who has worked with Mother Teresa in Calcutta and heads up Red Letter Christians – "a movement of folks who are committed to living as if Jesus meant the things he said."
Claiboirne took to Twitter to try to make contact with Feucht, but was unsuccessful.
Shane Claiborne@ShaneClaiborne·Oct 13, 2020 Dear @seanfeucht, This is not religious persecution. This is a city trying to protect its people.
Joel Houston (son of Brian Houston) "Now there may come a time and a place and a day, right, where that make a bit more sense," said Houston about protesting issues of religious freedom. "But I don't think it's during a pandemic, where people are protesting against injustice that is so blatant and obvious, and we're sitting there crying 'Oh, our religious freedoms!'"
"What are we talking about? There is no example of that in the Bible, as far as I'm concerned," Houston said.
"And I think, OK, what's going to happen now is [that] you've offended so many of the people we're called to reach, that now part of their agenda is actually taking away our religious freedoms. It was a non-issue before then. And so that's what happens, time and time again. We create the very things we're afraid of …"
Houston pointed out that the Bible says Christians should make Christ known by their love, not by their fear or, even, by their courage in response to fear. "Don't get me wrong, God is that good that I'm sure in all these meetings and all these places where people are doing stuff that God is actually moving – because he's not going to miss a moment if people are hungry for him. He's going to move in their lives. But I think, as a whole, that we could be doing so much more for our communities than having a worship protest."
Sean's Team Blatantly Lied And Misled Them
a https://saltmag.online/2020/09/14/meet-sean-feucht-the-plague-rat/
The Colorado Locals involved in these concerts deserve their fair share of the blame for this unmitigated catastrophe for the live entertainment industry. Crossroads Church, who acted as a local fixer for Sean and his crew in Fort Collins, specifically misled the local technical crews into believing that the event would be "just a few people in the park" — let alone underpaying them for a 12+ hour day and putting their lives at risk.
I talked to Chris Fernald, a local industry insider, who was one of many deceived by Sean Feucht's traveling circus. Chris was hired for the most recent Fort Collins event, and I wanted to talk directly with him in an attempt to find out more about how the night unfolded.
"The guy who hired me, he's like: "Oh yeah, it's a small church thing, like, there'll be a couple of people in the park"…it was put on by Sean with the help of Crossroads Church. I think, [you] can't really blame us. We are a production crew, that's just the job. I got to take jobs."
It was clear, at least from the technical perspective, the only way they are able to hire legitimate talent is by deceiving them. As we have done the research for this story, every person that was part of the locally-sourced production crew for this concert has asserted that Sean's team blatantly lied and misled them as to the size and scope of the project. Sean then further preyed on people's goodwill to underpay skilled workers in the middle of a pandemic. I was curious about how quickly this had spiraled out of control.
There's a theology driving Sean Feucht's worship music protests — and it's a popular one
What's at stake aren't just political and ideological differences but complex and deeply rooted theological commitments that have long been forming Christian identities.
a https://religionnews.com/2020/10/23/theres-a-theology-driving-sean-feuchts-worship-music-protests-and-its-a-popular-one/
Understanding Feucht's worship theology
Feucht, who lost a bid for California's 3rd Congressional District back in March, has reportedly billed the events as a Christian response to a "spirit of fear" and the perceived targeting and silencing of churches through COVID-19-related government ordinances. His efforts have been met with strong praise by some (including Bethel Church in Redding, California, with which he has been affiliated) and deep ire by others.
Why has a Pentecostal-Charismatic worship leader thrown his energies into this political fray?
On the one hand, public worship music gatherings ("concerts," as some prefer) have become somewhat commonplace at least since Graham Kendrick's Praise March movement in the late 1980s and early 1990s ("Shine Jesus Shine" was its soundtrack). We've grown accustomed to worship leaders wielding an increasingly influential level of celebrity within Christian media networks through megachurch platforms and mega-conferences like Passion.
_________________________________________________
*>Daryl here: we used to attend 'Jesus Festivals' in the late 70's, attended by thousands, that were held every year, outdoors in campsite settings, with musicians like Larry Norman. These were not considered or called 'revival,' but simply things we did as believers back than.
_________________________________________________
On the other hand, there is something new and distinct happening here. Why is it that Feucht has chosen worship music in particular as the tool with which he rages against what he perceives to be the politically motivated repression of Christian worship in America?
I'm suggesting here that Feucht makes much more sense when you understand his theology of worship, even if you disagree with how he is wielding it. To disregard or fail to acknowledge his theology of worship is to risk misunderstanding what he and his attendees are attempting to accomplish.
Understanding Feucht's worship theology
To understand why Feucht views worship music as the appropriate response to perceived religious oppression requires that we (all too briefly) unpack a theology of worship that enjoys widespread popularity today.
I'll simply call it "praise and worship theology" even though it is not monolithic. It emerged out of the Latter Rain Revival movement of the late 1940s and came of age in the late 1970s and 1980s. Many of the large churches and church-based worship music groups have been directly influenced by it: Bethel, Gateway, Hillsong, IHOP and others.
The core of this theology is that praise and worship manifests God's presence. Liturgical historian Lester Ruth has traced this theology back to a Pentecostal preacher named Reg Layzell in 1946 who popularized the idea that "God inhabits praise," based on Psalm 22:3, which, in the KJV translation, reads: "But thou art holy, O thou that inhabitest the praises of Israel."
By the late 1970s, a rich and diverse biblical theology had developed around this and other teachings as they related to a present-day restoration of musical worship modeled after the liturgical patterns instituted in the tabernacle of King David (1 Chronicles 15).
A second, intimately related shift also happened: the theological and functional conflation of the terms "praise" and "worship" with "music." When Feucht says worship, he doesn't mean a gathering where Christians pray, read the Bible and hear a sermon. He means a musical event where Christians sing praises to God.
These gatherings are important, then, because praise and worship, as they interpret Psalm 22:3 to mean, are the normal way Christians encounter God's presence. Depending on your own worship background, this may sound radically new or utterly commonplace.
Worshipping at the seat of power
But what does that theology have to do with Feucht's nationwide worship music events?
Consider this summary of a teaching by Barry Griffing, a Pentecostal-Charismatic pastor and conference leader. At a large worship conference in 1982, Griffing taught that when ancient Israel restored the practice of praise and worship as modeled in David's tabernacle, the nation experienced "spiritual, moral and military blessing." Furthermore, ancient Israel is a type for America and for the Christian church in America. If we, too, restore praise and worship, we can receive those same national blessings today.
This theology hinges on the prophecy quoted in Acts 15:16 (quoting Amos 9:11), that God is restoring David's tabernacle. At one point during his run for Congress, the verse adorned a political ad that featured Feucht standing atop a pile of rubble (the image has since been deleted).
Feucht is also embedded in the 24/7 prayer tent movement that draws its mission from this theology of tabernacle restoration (see David's Tent DC, for example). Not coincidentally, Feucht's #letusworship campaign itinerary also culminates in Washington, D.C., Sunday (Oct. 25).
This isn't just a show of political power like any other demonstration in Washington, D.C., it also has spiritual — even "end-times" — significance for those gathered, as they believe praise and worship releases God's power in the spiritual and physical realms. It's why Feucht, in good Pentecostal fashion, reports healings and conversions as signs of God's presence at his events.
Worshipping at the site of conflict
While Feucht insists his worship gatherings are protests against restrictions on church gatherings, his rallies have been held in places like Portland, Oregon; Minneapolis, Minnesota; and Kenosha, Wisconsin — sites of prominent BLM protests that often turned into showdowns with police.
These sites are important to Feucht because to him they reveal a spiritual disturbance (not to mention the media attention already focused there). Feucht's gatherings gain a double-valence concerning who the spiritual enemies are: both governmental leaders who would place restrictions on church gatherings and those protesting racism and police brutality.
For Feucht and his ilk, praise and worship is the weapon for defeating those spiritual/political enemies just as it was for ancient Israel.
In praise and worship theology, this is sometimes called "The Jehoshaphat Principle" — that the worshippers go out ahead of the army to secure its spiritual victory through God's presence in praise. The songs are anthemic, and the overall tone is joyful and unrelentingly positive — just as they are on Sunday mornings — in the belief that worship changes the emotional atmosphere as it changes the spiritual and political situation.
Sean Declares A New Jesus Movement Is Coming
a https://religionunplugged.com/news/2020/10/24/how-covid-19-is-fueling-a-new-jesus-movement
"So I took the '63 Gibson sunburst up there on the bridge and we started declaring crazy things," Feucht said. (In charismatic Christian circles, "declaring" things can mean prophesying a "word" or message from God, or it can mean proclaiming something into being that God wills to happen.) "Now is the season to declare crazy things. Never say safe prayers anymore. And I declared a new Jesus People Movement and it's coming to the nation."
_________________________________________________________
I did no commentary here, there was so much content. There will be various opinions and responses, esp. regarding his 'Let Us Worship' events. Some will protest that critiquing Sean's life and ministry, is inappropriate, considering the large numbers of salvations, miracles, demonstrations of God's presence and power, occurring in his events, what Sean is doing for America, for the church, protest and other wise. Even these observation can be legitimately examined.
What About The Gospel – What Kind Of Gospel?
I included several articles that covered perhaps different angles of concern. I close with this article, a response from one writer who attended an event. https://growing4life.net/a-warning-sean-feucht/
Here is one point they observed, that is important to remain Biblical in. One person's observation, but over all accurate facts on the gospel presentation needs to be assessed and determined.
𝐇𝐢𝐬 𝐦𝐞𝐭𝐡𝐨𝐝 𝐨𝐟 𝐬𝐡𝐚𝐫𝐢𝐧𝐠 𝐭𝐡𝐞 𝐠𝐨𝐬𝐩𝐞𝐥 𝐢𝐬 𝐚𝐥𝐥 𝐰𝐫𝐨𝐧𝐠.
"Apparently the gospel is shared at these worship events. That's good, right? But here's the thing. God's Word is clear on the way we are to share the gospel: through the preaching of His word and the Holy Spirit working in the hearts of those He calls. I watched one video of an altar call at his worship event and it was all I could stomach.
It was all emotional manipulation. I saw the leaders on stage singing and shouting and jumping around. They counted to 3 then yelled at the crowd "runnnn! come down, come down, come down!" over and over as swarms of people ran to the altar to be saved or healed or delivered. The leaders shout that these people are being delivered from their oppression and addictive behaviors miraculously and instantaneously. They lead them in a quick and simple salvation prayer. They state that thousands of people are saved at each event. It's revival! But is it?" _________________________________________________________
Sean has acknowledged that Bill Johnson is his mentor, Mike Bickle his hero. Having attended and participated in worship teams at Bethel for years, Bethel's gospel would be his.
Here is an observation from a former Bethel member of 7 years, and BSSM student. Full testimony in link:
s https://kimolsen.net/2012/12/11/saved-from-the-deception-of-charismania/
WHAT ABOUT THE GOSPEL!? WHERE IS THE GOSPEL!?
The worst and most horrifying thing in all of this is that there is no gospel being preached at all! It is all about the signs and wonders and the stories of supernatural encounters and experiences. This creates a spiritual frenzy, that promises health, wealth, supernatural encounters and experiences, for anyone who "presses in". This false portrait of Jesus can suck anyone in who wants to be wealthy and healthy (which is the desire of almost everyone who has not been regenerated by the Holy Spirit), or anyone who is intrigued by the supernatural. (I should mention I don't doubt at all that there are some people who are deceived in this movement who are truly saved) At the same time it creates a group of people who would deceive themselves and call themselves Christians, and yet are completely oblivious and hostile to the authentic gospel of Jesus Christ.
At Bethel there is no preaching on the Justice and Righteousness of God, and how God can't let the guilty go unpunished. There is no preaching of the sinfulness of man, and how everyone has violated God's standard. There is no preaching on the eternal conscious torments of Hell. There is no preaching of Christ and Him crucified. There is no preaching of Christ's substitutionary death on the cross paying the full penalty of the sins of those He died to forgive, that is penal substitution. There is no preaching of repentance and faith in Jesus' name as the only basis for which one is justified and declared righteous in the sight of God. Bethel preaches a gospel that is deficient, useless, and powerless to save.
The "gospel" that Bethel does preach is somewhat hard to pin down, since it encompasses the whole package of Manifest Son's of God and kingdom Theology. To explain further, they would say that God is good all the time (which is true), but what they mean by that is this, sickness and disease is not of God, so be healed. Lack of provision is not of God, so be prosperous. The earth does not look like what it did in the Garden of Eden; so go fix it, by releasing the Kingdom of God. Their "gospel" encompasses fixing and restoring almost everything on this side of eternity to a near state of perfection for Christ second coming, so that when Christ does come back the church can present to Him a near perfected earth. This is the Jesus that they would present to someone who may be lost. That if you believe in this Jesus your life can be restored into right relationship with God. That if you believe in this Jesus you can have good health, restored relationships, and abundance in needs being meant. They teach that if you believe in this Jesus you can have the "good life" now, which is what God wants for you, and you don't have to live in separation from Him. This false and counterfeit gospel may soothe the appetites of some, but it won't lead anyone to Christ in the least bit. ___________________________________________________________
This being observably true by a long time participant, begs the question of thousands of people are saved at each event. It's revival! Valid questioning is of legitimate concern, challenging/ examining the 'good fruit' defense.
With colder weather coming Sean's 'Let Us Worship' (protest) events may become a moot point, (for now), but what's next? What form will his declared 'Jesus movement' (protest) revival take then – What else is behind the scene?
Financial Funny Business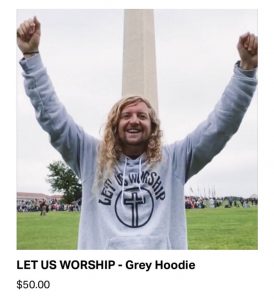 One more concern/fact to examine and consider. Financial Funny Business
Sean Feucht's Charity Raises more than $200,000 for Unspecified Afghanistan Work & Other Monies Raised
Sean Feucht's Charity Raises more than $200,000 for Unspecified Afghanistan Work